Carpets & Flooring in Lewes
Looking for new carpets or flooring in Lewes? As a family-owned business for over 30 years, Homecall Carpets makes the process stress-free. Our mobile showrooms come right to your home fully stocked with 1,000+ flooring samples, so you can view options in the comfort of your space. During our visit, we'll measure, provide quotes, and schedule installation by our professionals.
See even more selections by visiting our Ditchling showroom near Brighton. With our showroom vans and excellent service, it's no wonder customers across East and West Sussex choose us repeatedly.
Whether you need carpeting for bedrooms or durable vinyl for kitchens, we have you covered. Contact Homecall Carpets today to schedule an in-home appointment and find the perfect flooring for you.
Mobile carpet showroom with 1000+ flooring samples to choose from
Vast range of carpets, laminate and vinyl flooring including Karndean and Amtico
Large showroom warehouse and sample studio near Brighton
Instant quotations and expert in-house carpet fitters
30+ years as a successful West Sussex-based family business
Choosing fitted carpets in Lewes
Choosing new carpeting should be exciting, not stressful! With Homecall Carpets, we make the process enjoyable and convenient. Our consultants come to your home with samples so you can browse in the comfort of your space. Simply contact us to schedule a visit.
With our wide selection, you'll find carpets you love. Whether you like plush Saxonys, natural berbers, classic wool twists, or anything in between, we have it all. Our knowledgeable team provides expert advice to help you choose the perfect carpeting for each room.
You'll appreciate our competitive pricing and reliable in-house installation. We go the extra mile by moving furniture and properly removing and disposing of old carpets. From selection to installation, we care about the full experience. Make carpet shopping easy – contact Homecall Carpets today. Our convenient in-home service takes the stress out of finding beautiful new floors.
Laminate and vinyl flooring in Lewes
Vinyl and laminate are go-to flooring options for high-traffic areas needing durability and low maintenance. At Homecall Carpets, we offer a wide selection of quality sheet vinyl and wood laminates to suit any room. Our vinyl selection includes slip-resistant options for added safety.
Our mobile showrooms bring 500+ vinyl samples right to your home for convenient viewing. See even more choices at our Ditchling showroom. With decades of installation experience, our trained in-house team expertly fits top brands like Karndean and Amtico.
Whether you need floors for a few rooms or your whole home, Homecall Carpets has the perfect vinyl or laminate solution. Browse our extensive selection and get a quote for professional installation today. We make selecting and installing your new floors a smooth, stress-free process!
Large choice of laminate and vinyl flooring brands
With over 30 years of experience, Homecall Carpets is a trusted supplier and installer of quality hard flooring. We carry major laminate and vinyl brands like Rhinofloor, Tarkett, Lifestyle Floors, Polyfloor, Leoline, EGGER, and Quick-Step. As authorised retailers, we specialise in luxury vinyl flooring from Amtico and Karndean. Our in-house installation team is fully certified to professionally fit these premium LVT floors.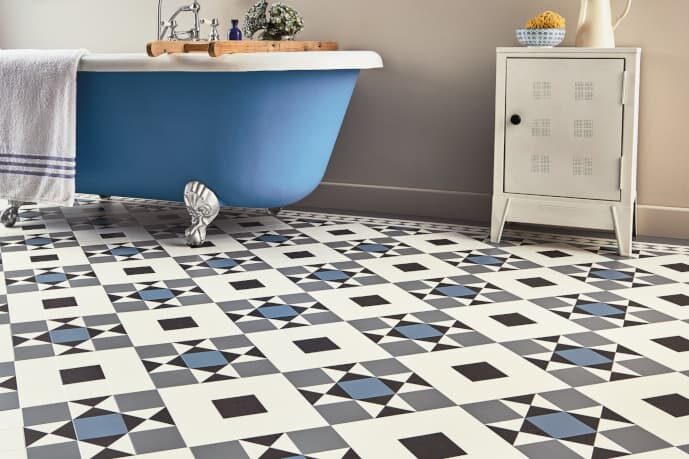 Choosing new carpets and flooring for your home in Lewes couldn't be easier or more convenient with Homecall Carpets. Why not give us a call on 01444 236786 to make an appointment or book a home visit online. Alternatively, you can also visit us at our showroom in Ditchling Common.
Douglas Wilcox
08/04/2022
Good range and helpful staff,have used them in the past.
Its been a pleasure to watch Mick at work, a real professional tradesman, a true artisan of carpet fitting. He is friendly, just like all the Homecall staff and I would wholeheartedly recommend them. Brilliant !!!
Excellent service from all staff. We didn't have a massive budget for carpeting a 2 bedroom house but took advantage of an offer on stock roll carpet and are very pleased with both the result and price! Thank you 😊
Great service both from the showroom at ditchling and the guys who came to for the carpet. The lady at the showroom was extremely helpful and led me to the exact carpet at the right price. The guys that fitted the carpet were efficient quick and very tidy even hoovering after fitting. All in all a first class service thank you will definitely use you again.
Super professional, responsive and a dream to deal with! Couldn't recconmend enough! I have been in the trade 12 years and stumbled across HomeCall by luck as they were doing a home visit oposite me. I struggled to supply a carpet to one of my customers and HomeCall went above and beyond to help a fellow floor layer. Will be using these guys again and doing everything I can to return the favour.
We have used Home Call Carpets for 23 years. They are friendly, easy to deal with. The product is excellent and their fitters do the best job. We've just had our hall, stairs and landing carpeted and it's like walking on the moon - the underlay is deep! 😊. I recommend you use them you won't be disappointed with price or product.
I was really impressed with Shaun and the way he was able to recommend the right hard flooring solution for my house as well as explaining the different type of carpet options so I wouldn't end up with the same frustrations I have with my existing carpet. Fitters arrived on time and did a great job, really tidy and good communication throughout. I always prefer dealing with a local, family run business and can highly recommend the team at HomeCall
Actually nice and helpful without being pushy in their sales pitch. We are return customers and have found the fitters helpful and good at their job. Wide range and will advise if needed. Would buy from again without hesitation!